Hamatula Island in Hinako Islands, West Nias Regency - Indonesia
---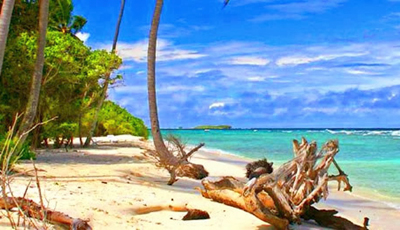 Due to its popularity, Hinako Islands should be in the list of the prime tourist activities in Nias Regency. It consists of 8 islands and one of them is called Hamatula. In fact, each of the islands has its unique charm and all of them are worth to explore! So, what is about Hamatula? These days, more travelers choose it as the place to conduct a survivacation or survival-vacation. It is because the location is a little bit secluded and no facilities are available there. Not to mention tourists can't find any people who live in the island.
The Nuance
In a nutshell, Hamatula is an uninhabited island and it features only nature and some small animals. Once tourists get to the location, they would feel like being cast away! No wonder, the site becomes a recommended place for those who want to try surviving in nature. The dense trees cover almost all part of the island and a short shoreline resides on it. The beach has creamy color, but the texture is not quite soft. Some chunks of trees are also seen there, creating an exotic atmosphere.
Exploring Hamatula Island
Recently, travelers put their eyes on Hamatula Island due to its exceptional natural atmosphere. This explains why these people take advantage of the island to conduct a challenging activity like survival-vacation. That means they spend about 3-6 days in Hamatula and try to survive there without any advanced facilities. It indeed sounds dangerous, but it is fun either. Spending several days in the wilderness is a new experience for most travelers, after all. Somehow, it feels like living a story of a movie called "Cast Away"!
Not only it is fun, a survival vacation is considered an educational activity. Thanks to Hamatula Island. It provides the perfect environment to do such adventure. It features an amazing beach, some lush trees, and bushes. So, does it mean everyone can enjoy the activity without hassles? As the name suggests, this activity requires tourists to survive in nature. In order to avoid problems, it is better to know what to prepare before visiting Hamatula for it.
The fact is Hamatula Island is located in a tropical country. That means the weather can be so harsh or too hot sometimes. Due to this reason, make sure to prepare sunscreen and other items that prevent heat of the sun. As for the drinks, bottled water is the most recommended supply as there is no well in the island. When it comes to the shelter, tourists can either build a tent or stay under a big tree. The first option is the best one, though.
Nearby Attractions
Bawa Island
Sirombu Beach
Langu Island
Bogi Island
Hamatula Island
How to Get There
For those coming from Gido City, the first destination is Sirombu Port. It is the location where tourists can find boat services for them to use later. The distance between these locations is 79.9 km, so it takes approximately 2 hours and 30 minutes to get to the port. After getting the boat, the next destination is indeed Hamatula, which takes about 30 minutes.
Where to Stay
Puri Asu Resort
Ina Silvi Resort