Sifika Island in Tello Archipelago, Nias Regency - Indonesia
---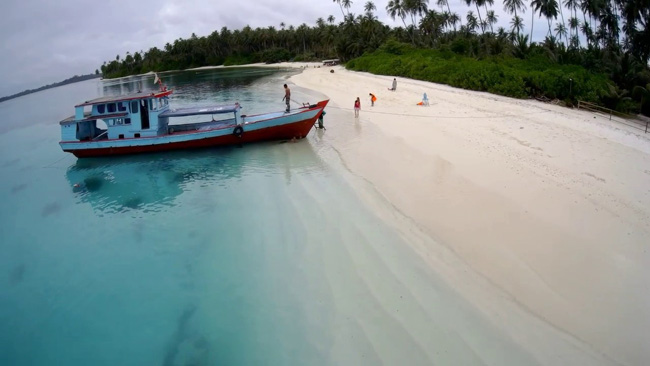 Spending a vacation in Nias Regency is a nice idea. It is the place where tourists can explore beautiful islands, witness interesting cultures, and enjoy delicious local foods. For those who love beaches, there is also Tello Archipelago, where several stunning islands reside. One of them is called Sifika/Sipika and it is the home of flawless Sifika Beach! No wonder, it also becomes a recommended destination for those who want to enjoy relaxation, beach walking, water sports, and photography. Moreover, it is easy to reach the island due to the satisfying boat services.
The Nuance
In terms of territory, Sifika Island is part of Tello Archipelago and it belongs to South Nias District. The size of the island is small, but it features tons of beautiful attractions especially the stunning coast. It is, without a doubt, the best charm of the island is its beach. The coast is shallow so the seawater looks quite clear there, featuring a beautiful gradation of color. When it comes to the sand, it emits mesmerizing appearance with its soft texture. The color of the sand is white, actually. Aside from the beach, the island features several types of trees and plants as well, especially the coconut trees.
Exploring Sifika Island
It is said Sifika Island is a hidden paradise of Nias Regency. Despite the small size, the island features several resorts and becomes a recommended place to spend a peaceful holiday. This explains why most visitors are those who want to relax and spend a honeymoon with their spouse. Aside from that, the island is famous for its long coastline! The sand is white and sea water feels so warm for swimming. Also, beach walking is quite recommended, especially in the afternoon due to its comforting atmosphere and soft-textured sand.
Sifika Island is a good reference for those who love water sports like swimming and snorkeling. Despite the variety of waves, tourists can swim comfortably there. As for the more challenging activity, visitors are allowed to conquer the waves by surfing. A recommended spot resides near to the island and it is accessible to everyone, especially professionals. Have no worries. The resorts provide some surfing boards for tourists to rent.
What is more? Another recommended activity to do in Sifika Island is to rent a boat and explore the sea. In this case, an island hopping is definitely fun. That means tourists are going to visit nearby islands of Tello Archipelago before going back to Gunungsitoli City. Do not forget to visit the nearby local settlement called Baruyu Lasara Village, though. At such place, tourists can try local dishes and learn the traditional language of the locals.
Nearby Attractions
Tello Island
Sigata Island
Sibolo Island
How to Get There
The trip starts from Gunungsitoli City, Indonesia. From there, travelers need to head to Teluk Dalam Port through Raya Pelud Binaka Street. It may take around 2 hours and 45 minutes as the distance is 101 km. Once arriving at the port, they can simply rent a boat and head to Tello Port. Another boat is required to reach Sifika Island afterward.
Where to Stay
First Inn Hotel
Tello Island Surf House