Malaga Beach in Gunungsitoli City, Nias Regency - Indonesia
---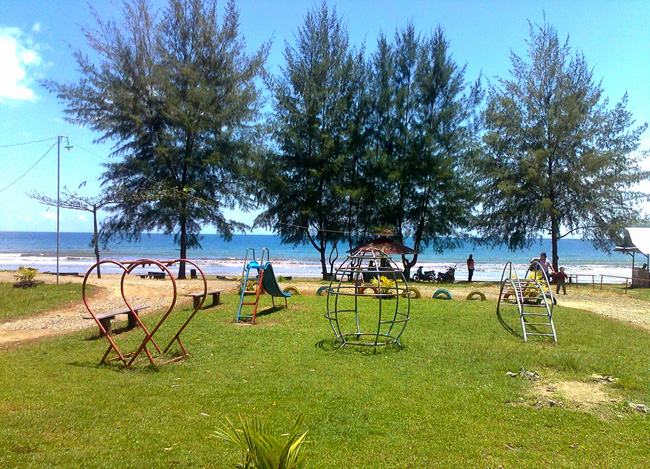 For those who are visiting Nias Regency, many options of vacation destinations are waiting for them to explore. In this case, a great reference like Malaga Beach should be on their list for sure. The location is in Gunungsitoli City and it has become one of the best charms of the region. It resides near to Binaka Airport, so everyone can reach the site easily with any type of vehicle! So, what makes it a good place for a vacation, though? The beach offers a good nuance to visitors and becomes a recommended site for relaxation under the trees, sightseeing, photography, and other types of fun activities.
The Nuance 
In terms of nuance, Malaga Beach offers almost perfect natural features. It is because you can find coral reefs, amazing sea scenery, sunset, trees, and other attractions there! Even though lacking rides and fun facilities, some food stands and inns are available near to the beach. When it comes to the waves, are moderate. That means the tourists are allowed to swim in the sea as long as paying attention to the safety. Also, parents with kids should supervise the children carefully when playing in the water.
Exploring Malaga Beach
A trip to Malaga Beach starts from Gunungsitoli City and you can use any type of available vehicle to reach the location. During the short trip, you can enjoy numerous natural attractions like local buildings, lush trees, and villagers! Once arriving at the site, the views look even better featuring cobalt blue sea water and gusty wind. Somehow, it emits romantic nuance as well, which is suitable for those who want to spend a honeymoon or to simply build a stronger relationship with beloved ones.
Malaga Beach is not only popular among tourists, but it also attracts some locals or those who want to conduct organizational activities. Some people even choose the beach as the place to hold a reunion with friends. Why is that? It is said the beach is a new vacation spot in Gunungsitoli City, so it comes with a perfect condition and unspoiled environment. Not to mention it is quite clean and peaceful! On top of that, a hotel resides near to the location, so tourists can spend more than one day there.
What is next? Swimming is allowed, but make sure to come at the right time. During the church retreat, visitors are not allowed to swim in Malaga Beach. Thus, you should gather information regarding such schedule before coming to the beach for swimming. Another important tip is that you need to carry enough cash for foods and accommodation during the adventure in Malaga Beach.
Nearby Attractions
Humogo Waterfall
Ya'ahowu Park
Bunda Maria Park
Nias Heritage Museum
How to Get There
The beach is located near to Binaka Airport, which is only 10.4 km apart. That means you only need to spend 35 minutes to get to Malaga Beach from the airport using either a car or motorcycle. When it comes to the best route, it is Raya Pelud Binaka.
Where to Stay
Mega Nasional Hotel
Sthree Hotel
Olayama Hotel
Soliga Hotel


Latest News
Lake Toba is indeed a favorite tourist destination when visiting North Sumatra. The charm of beauty offered in this lake area is indeed never ending to be explored. One of them is the uniqueness of the 'lake above the lake'. This nickname is familiar to local people and tourists when mentioning Lake Sidihoni, which is in the Lake Toba area. This lake is located on Samosir Island, which is an island in the middle of Lake Toba. That's why, this lake nicknamed is the 'lake above the lake'. Here are…
---
For those of you who come to Nias Island for your next vacation, it is better to find information about attractions that were previously available. As for reference, the beautiful beach is in West Nias Regency named Sirombu. Usually tour agents will recommend this place to locals and foreigners. The reason is none other than the sunset view. In addition, Sirombu Beach is also equipped with amazing facilities and surroundings. Not surprisingly, many people consider it the best vacation spot in West Nias Regency. It is true that Sirombu Beach…
---
What makes Indonesia is a worthy vacation destination? Many travelers are impressed by nature beauty of the country. Moreover, there is a famous tourist spot in North Sumatra Province, which is called Toba Lake. Being the biggest lake in Indonesia, Toba becomes the signature tourism in Sumatra Island. It is because the flawless nature and pristine water would satisfy all visitors. People come to the lake to enjoy a family recreation, sightseeing, photography, and exploration. The fact is many different tourist spots are scattered around the lake. Tourists can explore…
---
Bohorok Rehabilitation Center Bohorok Rehabilitation Center is a shelter for Orangutan in Sumatra that settled in Bukit Lawang. Bukit Lawang is one of the top destinations in Sumatra; Bukit Lawang is a small village on the edge of Gunung Leuser National Park in North Sumatra. Situated around 90 km north-west of Medan along the clear Bohorok River and on the outskirts of the tropical rainforest. As we know, The Gunung Leuser National Park is also one of the homes to Orangutan that spread in entire Sumatra Island. Thomas Leaf monkeys, Black Gibbons, White…
---