The Local Custom Houses in Tumori Village, Nias Regency - Indonesia
---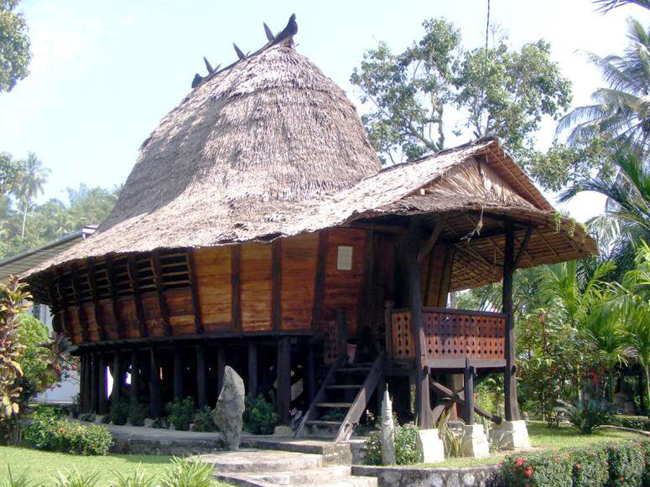 One of the best places to witness the local heritage of Nias People is Tumori Village. Why is that? It is the home of local custom houses, which are both unique and beautiful. Tumori belongs to West Gunungsitoli Sub-District and it is quite near to Binaka Airport. No wonder, tourists are likely to drop by at the village before visiting other tourist attractions. At the location, they can see the tranquility of the environment and take pictures of those houses. Not to mention visitors have the chance to learn the culture of the locals, as long as they come with a tour guide.
The Nuance
Tumori got its name from a giant tree, which was discovered by the founders of the settlement. Most people who live in that village belong to Zebua clan and they live a traditional life. It is because these people want to retain their culture and traditions so much. This also explains why they might conduct custom feasts at any given time, which also become an attraction for tourists. When it comes to the houses, they are made of wood and have the oval shape. They also feature the roof that is made of the sago palm. Here is the best part. The houses have been there for more than 100 years!
Exploring the Local Custom Houses
It is, without a doubt, the main charm of Tumori Village is the formation of local custom houses. At the first time, there were 21 of them but some of them were demolished by the owners due to the high cost of maintenance and an internal strife. Two of the houses even collapsed due to their old age and the effect of the local earthquake in 2005. Recently, there are 10 houses left and their condition remains good despite the old age. Not to mention they become the main tourism lure of the village.
Aside from learning the history of those houses, tourists are allowed to get near to them and explore the structure. The unique thing is that the houses (Omo Hada) features several poles, arranged irregularly. Despite such unpleasant arrangement of the poles, it helps the houses to withstand natural disaster (especially earthquake) well. In terms of shape and appearance, the houses are similar to Panggung traditional house of Jambi.
Once tourists enter the houses, they can feel the roomy and exotic nuance. It features several bedrooms and a vast living room, actually. The unique part is that it comes with a big hole on the roof, where the sun ray can enter the room easily. The residents can close the hole easily, though, during the bad weather. One thing, these houses do not feature any windows.
Nearby Attractions
Ya'ahowu Park
Humogo Waterfall
Kara Sangadulo
Laosi Beach
How to Get There
From Gunungsitoli City, travelers can directly head to Tumori Village through Pattimura Street. The distance is 22.5 km, so it takes about 50 minutes to get to the location. It can even be faster if they use a good vehicle and come during working days (where the traffic is low). 

Where to Stay
Olayama Hotel
Soliga Hotel
Binaka II Hotel
Sthree Hotel