Imana Island in Hinako Archipelago, Indonesia
---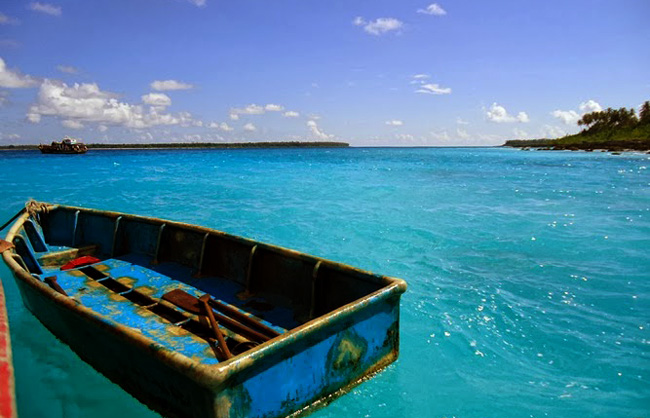 The best way to eradicate stresses and boredom is to visit a serene tropical island in Indonesia. Well, as for the reference, there is Imana Island which is the part of Hinako Islands. In terms of location, the island belongs to West Nias Regency and it is quite accessible either from Gunungsitoli City, Gido, or Sirombu. What makes it outstanding as compared to other islands, though? Well, it provides the best environment to relax and enjoy surfing. Aside from these things, tourists can find several megalithic stones on the island.
The Nuance
The best charm of Imana Island is its pristine environment, which is both unspoiled and lush. The air feels so refreshing due to the presence of dense trees and bushes, as well. Not to mention no people live there, so the nuance is definitely peaceful. Next, it is the coast, which features delicate and white sand. On top of that, the seawater emits Tosca blue color and moderate waves. Even at noon, the wind feels comfortable (not hot), so the shoreline can be the best spot for relaxation. What is more?
Exploring Imana Island
There is a common reason for visiting Imana, which is the unspoiled nature. No trash is seen on the site and no people live there. That means visitors would feel like spending a holiday on a private island. In fact, Imana doesn't have many visitors as compared to other islands in Hinako Islands. This makes it a good location to stay away from the crowds or a busy life. Even during weekends, not many tourists are seen there. Does it mean tourists would get bored when exploring the island? No, it does not. Instead, they can use such opportunity to come with families or a lover to build a stronger bond with them.
Aside from relaxation, Imana Island is suitable for beach walking, accompanied by the majestic view of the sea and soothing zephyr. Moreover, heavy coconut trees grow near to the coast and they create a shady area where tourists can rest during beach walking. As for the tip, it is better to come to the island early in the morning. The purpose is to get the best air, which is refreshing and cool. Later at noon, you can take a rest under the trees and enjoy some snacks or drinks while gazing at the sea. Isn't that peaceful?
Another recommended activity is swimming. The seawater features calm waves and warm temperature, so it is quite comfortable for swimming. The fact is that some parts of the sea are sloping, so it is even safe for inexperienced swimmers. Before heading back to Sirombu, it is better to visit other islands or conduct island hopping! In this case, you need to prepare more money to rent the boat.
Nearby Attractions
Bawa Island
Sirombu Beach
Langu Island
Bogi Island
Hamatula Island
How to Get There
From Gido City, the first trip heads to Sirombu Port, which is 79.9 km apart. This takes about 2 hours and 30 minutes, actually. Once you get to the port, make sure to use only a reliable boat service and head to Imana Island right away. The rent fee varies depending on owner's policy, though.
Where to Stay
Puri Asu Resort
Ina Silvi Resort