Ya'ahowu Park in Gunungsitoli City, Nias Regency, Indonesia
---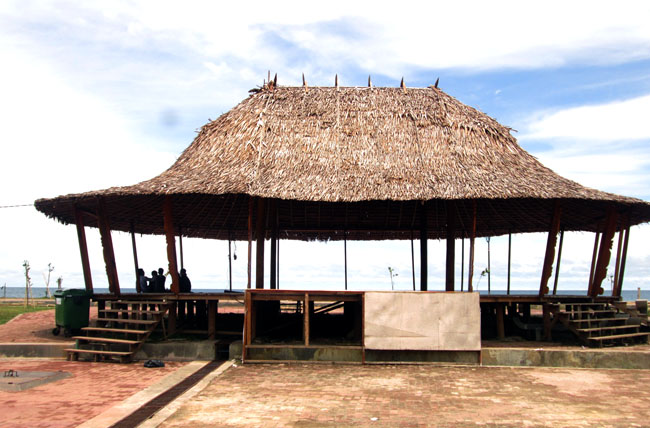 Gunungsitoli City is known as the capital of Nias Regency and becomes the home of many tourist attractions, including Ya'ahowu Park. The location is in Sirao Street 139 and resides near to a famous beach called Lagundri. Due to its beauty and popularity, the park has become the prime landmark of the city and it has been visited by lots of tourists over time.  Aside from that, the location is quite strategic so visitors can also explore other attractions once they have explored the park. As for the motives, most visitors come to enjoy the sea scenery, family recreation, and relaxation.
The Nuance
In terms of size, the park has the width of about 3,865 m2. Here is the news, the local government has the plan to enlarge it and provides better facilities to the site. Currently, the available facilities include a jogging track, a large gazebo, a parking area, and toilets. Like other parks, it features shady trees and lush grasses. On top of that, the view of the sea looks amazing from that location. It is because the park resides to the beach, featuring coastal views and gusty wind.
Exploring Ya'ahowu Park
Many types of activities can be done in Ya'ahowu Park. However, the most popular one is jogging either in the morning or afternoon. This explains why most of the visitors are the local families, kids, and teenager. They come to the park during the weekend, as well, for enjoying the peaceful atmosphere and astonishing views of the sea. Have no worries. Several benches are available on the site, where visitors can sit while sightseeing. Aside from this facility, a big stage resides in the middle of the park and it is often used for an annual cultural festival.
Sightseeing is not the only activity that tourists can do in Ya'ahowu Park. It is because they can enjoy good foods and drinks at a canteen nearby, located in the left corner of the park. Different types of snacks and beverages are available here, so tourists can rest a while and enjoy them before continuing the exploration. As an alternative, there are some local vendors on the right corner of the park. They offer fresh coconut drinks to tourists, which are quite refreshing!
As for the tips, all tourists should take care of the environment. That means they must take care of the trash either after eating or drinking. Next, it is better to come during important events like Ya'ahowu local party and the national Independence Day. At those times, the atmosphere becomes merrier and tourists can watch numerous art shows and dances.
Nearby Attractions
Charlita Beach
Lagundri Beach
Nias Heritage Museum
Bunda Maria Park
Humogo Waterfall
Kara Sangadulo
Hoya Beach 
Muara Indah Beach
How to Get There
From Jakarta, tourists can take an airplane to Gunungsitoli City (Binaka Airport). This may take approximately 13 hours depending on the weather and other factors, though. Once arriving at the airport, the next destination is Sirao Street, where the park is located. For a more comfortable trip, a taxi becomes a good choice this time. 

Where to Stay
Soliga Hotel
Nasional Hotel
Sthree Hotel
Tinca Hotel
Binaka II Hotel

Latest News
Lake Toba is indeed a favorite tourist destination when visiting North Sumatra. The charm of beauty offered in this lake area is indeed never ending to be explored. One of them is the uniqueness of the 'lake above the lake'. This nickname is familiar to local people and tourists when mentioning Lake Sidihoni, which is in the Lake Toba area. This lake is located on Samosir Island, which is an island in the middle of Lake Toba. That's why, this lake nicknamed is the 'lake above the lake'. Here are…
---
For those of you who come to Nias Island for your next vacation, it is better to find information about attractions that were previously available. As for reference, the beautiful beach is in West Nias Regency named Sirombu. Usually tour agents will recommend this place to locals and foreigners. The reason is none other than the sunset view. In addition, Sirombu Beach is also equipped with amazing facilities and surroundings. Not surprisingly, many people consider it the best vacation spot in West Nias Regency. It is true that Sirombu Beach…
---
What makes Indonesia is a worthy vacation destination? Many travelers are impressed by nature beauty of the country. Moreover, there is a famous tourist spot in North Sumatra Province, which is called Toba Lake. Being the biggest lake in Indonesia, Toba becomes the signature tourism in Sumatra Island. It is because the flawless nature and pristine water would satisfy all visitors. People come to the lake to enjoy a family recreation, sightseeing, photography, and exploration. The fact is many different tourist spots are scattered around the lake. Tourists can explore…
---
Bohorok Rehabilitation Center Bohorok Rehabilitation Center is a shelter for Orangutan in Sumatra that settled in Bukit Lawang. Bukit Lawang is one of the top destinations in Sumatra; Bukit Lawang is a small village on the edge of Gunung Leuser National Park in North Sumatra. Situated around 90 km north-west of Medan along the clear Bohorok River and on the outskirts of the tropical rainforest. As we know, The Gunung Leuser National Park is also one of the homes to Orangutan that spread in entire Sumatra Island. Thomas Leaf monkeys, Black Gibbons, White…
---