Hinako Island in West Nias Regency, Indonesia
---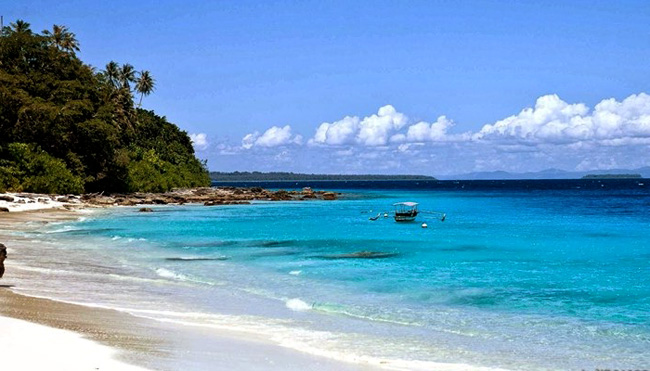 In the west part of Nias Regency, an interesting vacation spot resides and the name is Hinako Archipelago. As the name suggests, it consists of 8 small islands and becomes a prime destination for those who want to enjoy island hopping, diving, surfing, snorkeling, and other fun activities. All the islands offer similar characteristics and beauty, in fact. Hinako is the main island and it is indeed the biggest one among the others. Despite the case, the other 7 islands are worth to explore as well. Their location is close to each other, after all.
The Nuance
As mentioned before, all the islands share similar beauty and characteristics. Hinako is not an exception. It features beautiful beaches with white sand and shady coconut trees, crystal clear seawater, beautiful corals, exotic fishes, warm tropical weather, and gusty wind. With all these features, the island is proven to be a hidden paradise of Nias Regency. Despite lacking facilities, no one feels uncomfortable when spending hours on the island. So, what can tourists do there? Relaxation is only the beginning, as other challenging activities await them in Hinako.
Exploring Hinako Island
As mentioned earlier, Hinako is the main island. That means it becomes a checkpoint for tourists before exploring other islands. In terms of activity, tourists can do many things including sunbathing! The comfy environment makes it possible to perform such actions, after all. Not to mention the heat of the sun is not that bad. Next, tourists can simply sit near to the shoreline and watch the sea scenery. This relaxing activity is, somehow, able to get rid of burdens and stresses caused by works or daily routines.
The next fun thing to do in Hinako Island is surfing. It is common knowledge that Nias is famous for its big waves. Thus, Hinako is not an exception. The reason is none other than the location, which connects to the Indian Ocean. Aside from this surfing, tourists can also enjoy other water sports like snorkeling and diving. The underwater scenery is quite amazing, featuring various sizes of corals and fishes. Not to mention the water visibility is good down there. The only consideration is that tourists should carry the gear or equipment in order to enjoy these activities.
What is next? On some occasions, Hinako Island is suitable fishing. Several good spots are available to enjoy such relaxing activity, especially near to the coral reefs. Thanks to the abundant number of fishes. Tourists can easily catch them regardless of their fishing skill. As an alternative, you can ride local's fishermen boat and learn how to fish by watching them work. It is a rare opportunity, though.
Nearby Attractions
Bogi Island
Bawa Island
Asu Island
Imana Island
Heruanga Island
Hamutala Island
Langu Island
How to Get There
If you come from Gido City, the prime destination is Sirombu Port, which takes about 3 hours as the distance is 79.9 km. Once arriving at the port, it is time to rent a boat and head to Hinako Island directly. Make sure to carry ample supplies.
Where to Stay
Puri Asu Resort
Ina Silvi Resort


Latest News
Lake Toba is indeed a favorite tourist destination when visiting North Sumatra. The charm of beauty offered in this lake area is indeed never ending to be explored. One of them is the uniqueness of the 'lake above the lake'. This nickname is familiar to local people and tourists when mentioning Lake Sidihoni, which is in the Lake Toba area. This lake is located on Samosir Island, which is an island in the middle of Lake Toba. That's why, this lake nicknamed is the 'lake above the lake'. Here are…
---
For those of you who come to Nias Island for your next vacation, it is better to find information about attractions that were previously available. As for reference, the beautiful beach is in West Nias Regency named Sirombu. Usually tour agents will recommend this place to locals and foreigners. The reason is none other than the sunset view. In addition, Sirombu Beach is also equipped with amazing facilities and surroundings. Not surprisingly, many people consider it the best vacation spot in West Nias Regency. It is true that Sirombu Beach…
---
What makes Indonesia is a worthy vacation destination? Many travelers are impressed by nature beauty of the country. Moreover, there is a famous tourist spot in North Sumatra Province, which is called Toba Lake. Being the biggest lake in Indonesia, Toba becomes the signature tourism in Sumatra Island. It is because the flawless nature and pristine water would satisfy all visitors. People come to the lake to enjoy a family recreation, sightseeing, photography, and exploration. The fact is many different tourist spots are scattered around the lake. Tourists can explore…
---
Bohorok Rehabilitation Center Bohorok Rehabilitation Center is a shelter for Orangutan in Sumatra that settled in Bukit Lawang. Bukit Lawang is one of the top destinations in Sumatra; Bukit Lawang is a small village on the edge of Gunung Leuser National Park in North Sumatra. Situated around 90 km north-west of Medan along the clear Bohorok River and on the outskirts of the tropical rainforest. As we know, The Gunung Leuser National Park is also one of the homes to Orangutan that spread in entire Sumatra Island. Thomas Leaf monkeys, Black Gibbons, White…
---